This post was produced by Roast Pork Sliced From A Rusty Cleaver: http://yellowcranestower.blogspot.com
Joyce Man
Nov 08, 2011
Singer Kenny Bee and his girlfriend Fan Chiang have been placed on a good behaviour bond for damaging a mobile phone belonging to Bee's former sister-in-law during a dispute.
Bee, 58, also known as Chung Chun-to, the lead vocalist and guitarist with 1970s band The Wynners, and Fan, 40, were ordered to be bound over in the sum of HK$2,000 for one year when they appeared in Eastern Court yesterday.
Fan, Kenny Bee, and attorney, Money Lo
The pair were charged with one count each of criminal damage. Fan also faced one count of assault occasioning actual bodily harm.
The charges were dismissed when they agreed to the bond.
The court heard that Bee, Fan and Rose Cheung Siu-yuen, a younger sister of Bee's ex-wife Teresa Cheung, crossed paths in the ground-floor lift lobby of a building in MacDonnell Road. Mid-Levels, on April 3 this year.
The couple and Rose Cheung were living on separate floors.
Bee got involved in a dispute with Rose Cheung over Bee's daughter. When Fan appeared, she joined in.
The court was told that during the encounter, Fan pushed Rose Cheung's shoulder and grabbed at her clothing. When Cheung took out a mobile phone to call the police, Fan took it and smashed it. Cheung said she saw Fan stomp on it.
Cheung called the police using a second mobile phone.
She was found to be experiencing tenderness on her neck, back and buttocks at a medical examination at Ruttonjee Hospital following the incident. Bruising and a scratch mark on her right arm were also noted.
Bee said he was very happy after the hearing. He added: "I have been on good behaviour for multiple decades. That means no change to my current way of life."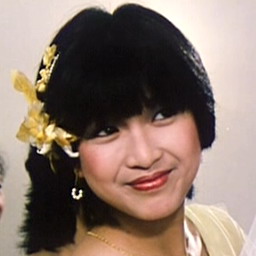 Money Lo Mun-yi (1984)
Acting Principal Magistrate David Dufton ordered the pair to be bound over after court prosecutor Louise Wong said the ruling was acceptable.
The couple's barrister, TV presenter turned lawyer Money Lo Mun-yi, said her clients were willing to be bound over.
The pair were greeted by dozens of reporters, photographers and TV cameras as they left the court .
Bee and Teresa Cheung, with whom he has a son and daughter, divorced in 1999.
He was declared bankrupt in 2002 but discharged in 2006.
(SCMP)
MSN: Kenny Bee and girlfriend charged for assault
CNA: Kenny Bee, Fan Jiang all smiles after prosecutors drop charges
(Sina)