Horror film, Midnight Taxi poster resembles Saw style. It gets a national release Nov.17.

Gao Qunshu has relinquished the title 'Four Marshals' to Gordon Chan. His film is now titled
'Fierce West Wind
'. Together with his film The Message (lit.Wind Sound or Sound of the Wind) and a film scheduled to start in May that is based on a novel that also has 'Wind' in the title, the three will therefore form his 'Wind Trilogy'.
(Xinhua)
Takeshi Kaneshiro considering a career advancement in Hollywood
(2)
Screen Daily: EMP adds Stool Pigeon to star-studded AFM slate
Li Xiaolu

Love At Seventh Sight
opens Nov. 3. Love is a road romance, Mike He plays a sound engineer from Hong Kong and Li plays a Beijing girl.
(Sina)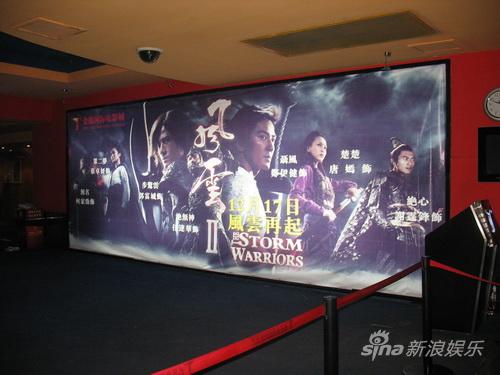 Mainland theaters ready promotional materials for
Storm Warriors
, opening Dec.10 Twenty cities nationwide have slotted the film in its prime movie house. Already, female moviegoers are clamoring for the posters featuring Aaron Kwok and Ekin Cheng. Golden Harvest and Chengtian has been giving out free monthly 'Wind and Cloud' magazines to heighten the anticipation.
(Sina)
THR: Polybona plans NYSE listing
Third Chinese film studio readies IPO for late 2010 or 2011
"The capital markets are starting to recognize Chinese movie studios"